Essence and Content of Legal Settlement and Tax Amnesty
M. S. Syromiatnikova

Kharkiv National University of Internal Affairs
Keywords:
legal settlement, legal conflict, tax amnesty, money laundering
Abstract
The article is focused on defining the essence and content of legal settlement and tax amnesty. The main features and areas of applying legal settlement in various fields of law have been studied. The legal principles of reaching a legal settlement in civil, labor, tax and criminal procedural law have been studied. The author has suggested own definition of a legal settlement. The content of a legal settlement has been defined as the achievement of mutual concessions of the parties within the legal norms.
The main features, procedure and grounds for tax amnesty have been determined. The author has provided specific measures that can be taken under the tax amnesty. The procedure for legalization of funds and release of the perpetrator of violations of tax legislation from legal liability under the tax amnesty has been highlighted. The author has presented conclusions of researchers who studied the practice of tax amnesty in different countries. The author has suggested own definition of tax amnesty.
Downloads
Download data is not yet available.
References
Bobrovnyk S.V., 2011. Compromise in law: the nature and criteria of classification [Kompromis u pravi: sutnist ta kryterii klasyfikatsii]. Časopis Kiïvsʹkogo unìversitetu prava – Law Review of Kyiv University of Law, No. 2, pp. 9-13.
Holovan T.H., 2016. Problems of implementation of tax compromise in Ukraine [Problemy vprovadzhennia podatkovoho kompromisu v Ukraini]. Prikarpatsʹkij ûridičnij vìsnik – Subcarpathian Law Herald, No. 5, pp. 55-59.
Kalynychenko A.V., 2016. Theoretical aspects of judicial compromise in criminal proceedings in Ukraine [Teoretychni aspekty sudovoho kompromisu v kryminalnomu sudochynstvi Ukrainy]. Pìdpriêmnictvo, gospodarstvo ì pravo – Entrepreneurship, Economy and Law, No. 3, pp. 147-152. Available at: http://pgp-journal.kiev.ua/archive/2016/03/28.pdf [Accessed 17 January 2020].
Kurta Ye.O., 2004. Classification of compromise on pre-trial investigation [Klasyfikatsiia kompromisu na dosudovomu slidstvi]. In: Actual problems of criminal proceedings [Aktualni problemy kryminalnoho sudochynstva]. Donetsk, 21 November. Donetsk. Pp. 43-53.
Nekyga S.N., 2013. Compromise as a component of the mechanism of law [Kompromiss kak sostavlyayushchaya mekhanizma deistviya prava]. Uchenye zapiski Tavricheskogo natsional'nogo universiteta imeni V. I. Vernadskogo, Vol. 26, No. 2, pp. 38-44.
Novikova M.S., 2006. The question of the creation of a straight-forward theory of harmonization of social relations [Do pytannia stvorennia pravokompromisnoi teorii harmonizatsii suspilnykh vidnosyn]. Pravo Ukraïni – Law of Ukraine, No. 1, pp. 29-33.
Turkota S.S., 2001. Legal compromise in criminal proceedings [Pravovyi kompromis u kryminalnomu sudochynstvi]. Pravo Ukraïni – Law of Ukraine, No. 12, pp. 69-71.
Usatyi H.O., 2001. Criminal legal compromise [Kryminalno-pravovyi kompromis]. Kyiv: Atika.
Prykhodko I.V., 2007. The essence of tax amnesty and its relation to the concepts of "economic amnesty", "financial amnesty" and "capital amnesty" [Sutnist podatkovoi amnistii ta yii spivvidnoshennia z poniattiamy "ekonomichna amnistiia", "finansova amnistiia" ta "amnistiia kapitaliv"]. Naukovij vìsnik Užgorodsʹkogo nacìonalʹnogo unìversitetu. Serìâ Pravo – Uzhhorod National University Herald. Series: Law, Iss. 43, Vol. 2, pp. 75-80. Available at: http://www.visnyk-juris.uzhnu.uz.ua/file/No.43/part_2/18.pdf [Accessed 17 January 2020].
Slozko O.O., 2015. Positive experience of tax amnesty of developed countries for Ukraine [Pozytyvnyi dosvid podatkovykh amnistii rozvynutykh krain dlia Ukrainy]. Svitova ekonomika ta mizhnarodni vidnosyny. Intelekt XXI st., No. 5, pp. 27-35.
Trubin I.O., 2014. Application of tax compromise and tax amnesty [Zastosuvannia podatkovoho kompromisu ta podatkovoi amnistii]. Fìnansove parvo, No. 2, pp. 39-42.
Shulha T.M., 2019. The concept of tax amnesty and international experience of its application [Poniattia podatkovoi amnistii ta mizhnarodnyi dosvid yii zastosuvannia]. Porìvnâlʹno-analìtične parvo, No. 1, pp. 261-263.
Starodub D.M., 2014. Legal regulation of declaring personal income: a retrospective analysis [Pravove rehuliuvannia deklaruvannia dokhodiv fizychnykh osib: retrospektyvnyi analiz]. Fìnansove parvo, Iss. 4, pp. 36-38.
Zolotarov A.I., 2004. Some criminal aspects of "tax amnesty" [Deiaki kryminalno-pravovi aspekty "podatkovoi amnistii"]. Deržava ì pravo – State and Law, Iss. 26, pp. 483-488.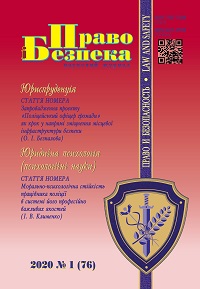 How to Cite
Syromiatnikova, M. S. (2020) "Essence and Content of Legal Settlement and Tax Amnesty", Law and Safety, 76(1), pp. 95-100. doi: 10.32631/pb.2020.1.13.
Section
ADMINISTRATIVE LAW AND POLICING
Copyright (c) 2020 M. S. Syromiatnikova
This work is licensed under a Creative Commons Attribution 4.0 International License.