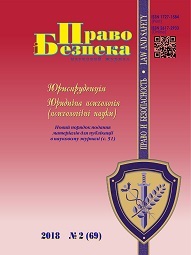 Serial's name: "Law and Safety" (in English), "Право і безпека" (in Ukrainian), "Право и безопасность" (in Russian).
Publisher: Kharkiv National University of Internal Affairs.
Crossref Sponsored Member, DOI: https://doi.org/10.32631.
The journal is a professional edition in the field of legal science (since 11.06.2003), in psychology – legal psychology (since 06.03.2015), in sociology (since 10.12.2003 to 09.02.2015), in technical science (from 11.06.2003 to 31.08.2010), in psychology (from 10.12.2003 to 31.08.2010), in economic science (from 30.06.2004 to 31.08.2010) and belongs to the category "B" of the List of scientific professional editions of Ukraine (paragraph 3 of the order of the Ministry of Education and Science of Ukraine dated from January 15, 2018, No. 32).
Certificate: Certificate of state registration of printed media of mass information.
Languages of edition: Ukrainian, Russian, English (mixed languages).
Frequency: 4 issues per year (quarterly).
Chief Editor: Bezpalova Olha Ihorivna – Doctor of Judicial Sciences, Professor, Honored Worker of SciTech of Ukraine.
Editorial board: to view.
Categories of readers: the whole population.
Program objectives: dissemination of the results of scientific research of theoretical and practical problems in law and safety sphere, scientific provision of law-making process and practical activity of law enforcement agencies of Ukraine, promotion of the state policy in the sphere of guaranteeing human rights and freedoms and combating crime, etc.
The "Law and Safety" journal follows the Open Access policy. All articles are placed indefinitely and free of charge immediately after they are issued. Full-text access to scientific articles of the journal in real time regime is provided on the official website of the journal.
Journal's site: http://pb.univd.edu.ua/.