Personal transformations of the elements of behavioral component of law enforcement officers' professional activity
Keywords:
transformation, behavioral component, coping-behavior models, coping strategies, law enforcement officers
Abstract
The author of the article has provided the results of the study of the features of personal transformations of the elements of behavioral component of law enforcement officers' professional activity at the stage of training in higher educational institutions with specific learning conditions. The interdependent elements of behavioral component of a law enforcement officer's professional activity have been singled out, namely: the adaptive potential of an individual, skills and behavioral self-regulation styles, individual and business qualities, mechanisms of psychological protection and coping-behavior strategies.
The author has diagnosed the features of strategies and models of coping behavior of law enforcement officers at different stages of professional training. So, in difficult life situations it is typical for freshmen to come into contact with others for decision-making. Despite this, they are able to take responsibility and solve problems independently, although they still need support from others. Second-year students tend to work together to achieve mutual goals that coincide and to avoid the risk of failure due to long-term analysis of solution options and possible consequences, they are prone to re-insurance and cautious actions. Third-year students seek support from others (family, friends, colleagues), have the ability to solve problematic, difficult situations with other people, are able to cooperate and behave combining inner strength and politeness to the environment. MA students use practically the same with third-year students a set of models of coping behavior, search for social support and interaction with people. However, they are more prone to cautious actions and weighed decisions than third-year students.
It has been determined that law enforcement officers at the stage of professional training are least of all inclined to use passive and asocial coping strategies. Thus, freshmen in difficult situations will not demonstrate caution and aggression, second-year students will not avoid difficulties and behave in asocial way, third-year students are also less likely to engage in antisocial and aggressive actions, and MA students are less likely to act aggressively and avoid solving problems.
Downloads
Download data is not yet available.
References
Tverdokhliebova N.Ye., 2017. Personal transformations stipulated by professional activity of a police officer [Lichnostnye transformatsii, obuslovlennye professional`noi deyatelnost`yu politseiskogo]. In: Furmanov I.A. et al. (eds). Modern problems of applied legal psychology [Sovremennye problemy prikladnoi yuridicheskoi psikhologii]. Minsk, November 23, 2017. Minsk: Izdatel`skii tsentr BGU. Pp. 205-209. Available at http://repository.kpi.kharkov.ua/bitstream/KhPI-Press/38876/1/Tverdokhlebova_Lichnostnye_transformatsii_2017.pdf [Accessed 16 November 2018].
Vodop`yanova N.E., 2009. Psychological assessment of the stress [Psikhodiagnostgka stressa]. St. Petersburg: Piter.
Aleksandrov D.O., 2016. General Psychological Characteristics of Professional Activity of the National Police Employee [Zahalna psykholohichna kharakterystyka profesiinoi diialnosti pratsivnyka Natsionalnoi politsii]. Ûridična psihologìâ – Legal psychology, Vol. 18, No. 1, pp. 129-140.
Tsilmak O.M., 2011. Professional genesis of the competence of criminal police specialists: theory and practice [Profesiohenez kompetentnosti fakhivtsiv kryminalnoi militsii: teoriia ta praktyka]. Odesa: RVV ODUVS.
Aleksandrov D.O., Androsiuk V.H., Kazmirenko L.I. et al., 2007. Legal psychology [Yurydychna psykholohiia]. Kyiv: KNT. (Eds: Kazmirenko L.I., Moiseiev Ye.M.).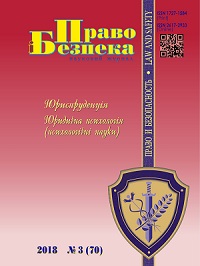 How to Cite
Tverdokhliebova, N. Y. (2018) "Personal transformations of the elements of behavioral component of law enforcement officers' professional activity", Law and Safety, 70(3), pp. 71-75. doi: 10.32631/pb.2018.3.10.
Copyright (c) 2018 N. Ye. Tverdokhliebova
This work is licensed under a Creative Commons Attribution 4.0 International License.