INTERNATIONAL EXPERIENCE IN COMBATING DOMESTIC VIOLENCE AND THE POSSIBILITIES OF ITS IMPLEMENTATION IN UKRAINE
М. М. Lehenka

Kharkiv National University of Internal Affairs
Keywords:
prevention and counteraction to domestic violence, international regulatory standards, law-making, international experience, protective order.
Abstract
The author has substantiated the relevance of studying and taking into account in law-making activity of international standards of counteracting domestic violence. At the same time, the strengthening of the fight against domestic violence has been attributed to the most important features of progress in domestic jurisprudence.
The UN model law on domestic violence has been analyzed. It has been noted that the analyzed model law defined the concept of domestic violence and formulated the requirements for law enforcement officers, prosecutors and courts. It has been emphasized that this law established compulsory actions of law enforcement officers in case of reacting to the fact of domestic violence. Particular attention has been paid to the provisions focused on protective orders and regulations. The concept of emergency temporary restraining order, which prohibits further domestic violence, has been revealed. The complex of measures of social, moral and ethical, psychological and pedagogical nature aimed at ensuring counteraction to domestic violence and provided by the model law has been characterized.
The ways of implementing the norms of the model law into the national practice have been analyzed; and the expected high efficiency of such an implementation has been noted. The author has analyzed the regulatory and organizational experience of combating domestic violence accumulated in advanced European countries. The relevant legal regulations that are in force in these countries, with reference to their effectiveness have been characterized.
It has been emphasized that the experience of legal counteraction to domestic violence in European countries and the provisions of the UN model law on combating these types of violence can serve as a serious legal basis for the development of domestic law and law-enforcement practice.
Downloads
Download data is not yet available.
References
Про попередження насильства в сім'ї : закон України від 15.11.2001 № 2789-III // База даних (БД) «Законодавство України» / Верховна Рада (ВР) України. URL: http://zakon.rada.gov.ua/laws/show/2789-14 (дата звернення: 19.12.2017).
Проект Закону про запобігання та протидію домашньому насильству : від 20.10.2016 № 5294 / ініціатор: В. Б. Гройсман // БД «Законодавство України» / ВР України. URL: http://w1.c1.rada.gov.ua/pls/zweb2/webproc4_1?pf3511=60306 (дата звернення: 19.12.2017).
Міжнародний досвід попередження та протидії домашньому насильству : монографія / А. О. Галай, В. О. Галай, Л. О. Головко та ін. ; за заг. ред. А. О. Галая. Київ : КНТ, 2014. 160 с.
UN Handbook for Legislation on Violence against Women // The Advocates for Human Rights : сайт. URL: http://www.stopvaw.org/united_nations_model_legislation (дата звернення: 19.12.2017).
Die Wiener Interventionsstelle gegen Gewalt in der Familie : сайт. URL: https://www.interventionsstelle-wien.at (дата звернення: 19.12.2017).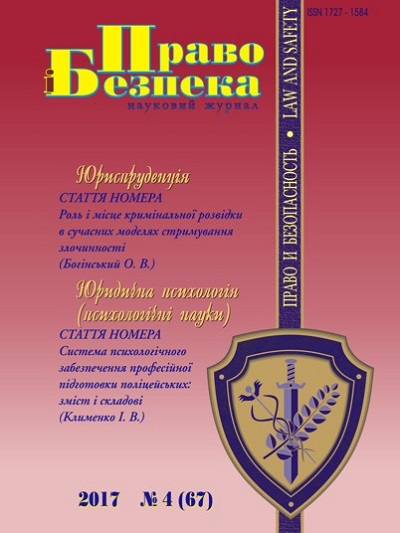 How to Cite
LehenkaМ. М. (2018) "INTERNATIONAL EXPERIENCE IN COMBATING DOMESTIC VIOLENCE AND THE POSSIBILITIES OF ITS IMPLEMENTATION IN UKRAINE", Law and Safety, 67(4), pp. 111-116. Available at: http://pb.univd.edu.ua/index.php/PB/article/view/25 (Accessed: 28September2023).
Section
THEORY AND PRACTICE OF LAW ENFORCEMENT ACTIVITY
Copyright (c) 2018 М. М. Легенька
This work is licensed under a Creative Commons Attribution 4.0 International License.