Communicative Tolerance of Policemen in the Context of Their Emotional Intelligence' Study
O. О. Yevdokimova

Kharkiv National University of Internal Affairs

Y. S. Ponomarenko

Kharkiv National University of Internal Affairs
Keywords:
communicative tolerance, professional communication, emotional intelligence, vocational training, police
Abstract
This paper presents the results of an empirical study of the peculiarities of manifestations of emotional intelligence among police officers with different levels of communicative tolerance at the stage of primary vocational training. In this context, the actual model of emotional intelligence and its practical application need to be verified taking into account the specifics of police activity. Emotional intelligence is considered primarily as an integral feature of the personality of a policeman in the context of his professional communication in situations that are problematic. The emotional intelligence of the individual is represented in the article as a cognitive ability to perceive and analyze both their own and others' emotional states and emotional manifestations; as well as the ability to correctly regulate and use them. Communicative tolerance, in turn, is one of the most important features of the police officer, which shows his attitude to people, the degree of tolerance to unpleasant or unacceptable, in his opinion, mental states, qualities and deeds. As a psychodiagnostic tool, the questionnaire "General communicative tolerance" (V. V. Boyko) and the "Emotional Intelligence" test (D. V. Lusin) were used. The sample consisted of 132 students of initial training of police officers. The results of the study indicate differences in the manifestations of emotional intelligence in students with different levels of communicative tolerance. It is empirically proven that emotional intelligence in situations of problematic communication acts as an integral personality of the police officer, which allows him to successfully recognize and interpret the emotions of both his own and the communication partner. The study of the level of emotional intelligence of the police at the stage of professional training will allow the psychological support service to better address the tasks of professional selection and psychological support for future policemen.
Downloads
Download data is not yet available.
References
1. Kharchenko L.H., 2012. Communicative Tolerance of the Social Teacher as a Component of His Ethical Culture [Komunikatyvna tolerantnist sotsialnoho pedahoha yak komponent ioho etychnoi kultury]. Strategic Issues of World Science [Strategicheskie voprosy mirovoi nauki]. Available at http://www.rusnauka.com/5_SWMN_2012/Pedagogica/6_100892.doc.htm [Accessed 4 April 2019].
2. Stetsenko V.V., 2016. Psychological Features of Professional Activity of Employee of Department of Internal Affairs: a reflexive Aspect [Psikhologicheskie osobennosti professional`noi deyatel`nosti sotrudnikov organov vnutrennikh del: refleksivnyi aspekt]. Vestnik Taganrogskogo gosudarstvennogo pedagogičeskogo instituta imeni A.P. Čehova, No. 1, pp. 104-107.
3. Darroch S. and Mazerolle L., 2015. Intelligence-Led Policing: A Comparative Analysis of Community Context Influencing Innovation Uptake. Policing and Society, Vol. 25, Iss. 1, pp. 1-24. https://doi.org/10.1080/10439463.2013.784312.
4. Caveney N., 2015. The material preconditions for engagement in the police: A case study of UK police culture and engagement in times of radical change: A thesis submitted for the award of Professional Doctorate in Business Administration. University of Portsmouth. Available at http://library.college.police.uk/docs/theses/CAVENEY-police-culture-2015.pdf [Accessed 4 April 2019].
5. Brewster J., Stoloff M.L., Corey D.M., Greene L.W., Gupton H.M. and Roland J.E., 2016. Education and Training Guidelines for the Specialty of Police and Public Safety Psychology. Training and Education in Professional Psychology, Vol. 10, No. 3, pp. 171-178. https://doi.org/10.1037/tep0000122.
6. Furuhagen B., 2015. The Making of a Social, Representative and Intellectual Police Force – Recruitment and Education of Police Trainees in Sweden During the 20th Century. Nordisk politiforskning, Vol. 2, No. 1, pp. 6-33. Available at http://urn.kb.se/resolve?urn=urn%3Anbn%3Ase%3Auu%3Adiva-252769 [Accessed 4 April 2019].
7. Vahnina V.V., 2015. Psychological Peculiarities of Negotiating Culture of Police Officers [Psikhologicheskie osobennosti formirovaniya peregovornoi kul`tury sotrudnikov OVD]. Trudy Akademii upravleniâ MVD Rossii – Proceedings of Management Academy of the Ministry of Interior of Russia, No. 1, pp. 63-66.
8. Osipova A.S. and Fedotova S.N., 2015. Influence of Emotional Intelligence on Personal Reliability of ATS Employees – Graduates of Educational Organizations of the Ministry of Internal Affairs of Russia [Vliyanie emotsional`nogo intellekta na lichnostnuyu nadezhnost` sotrudnikov OVD – vypusknikov obrazovatelnykh organizatsii MVD Rossii]. Psihopedagogika v pravoohranitelʹnyh organah – Psychopedagogy in Law Enforcement, No. 1, pp. 7-12.
9. Yevdokimova O.O. and Ponomarenko Ya.S., 2018. Social Intelligence of police officers in the context of their communicative competence [Sotsialnyi intelekt politseiskykh u konteksti ikh komunikatyvnoi tolerantnosti]. Law and Safety, Vol. 68, No. 1, pp. 31-38. https://doi.org/10.32631/pb.2018.1.04.
10. Khlevnaya E.A., 2012. The Role of Emotional Intelligence in the Effectiveness of Activities: on Example of Leaders [Rol` emotsional`nogo intellekta v effektivnosti deyatel`nosti: na primere rukovoditelei]. Abstract of Ph.D. dissertation. National Research University "Higher School of Economics", Moscow.
11. Shnaider M.I., 2016. The Problem of Developing Emotional Intelligence in the Context of a New Communicative Reality [Problema razvitiya emotsional`nogo intellekta v usloviyakh novoi kommunikativnoi real`nosti]. In: Development and Education of the Individual in the Modern Communicative Space [Razvitie i obrazovanie lichnosti v sovremennom kommunikativnom prostranstve]. Irkutsk, 21-23 September 2016. Pp. 160-166.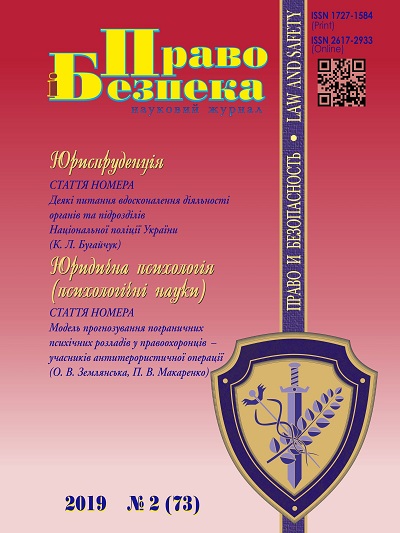 How to Cite
YevdokimovaO. О. and Ponomarenko, Y. S. (2019) "Communicative Tolerance of Policemen in the Context of Their Emotional Intelligence' Study", Law and Safety, 73(2), pp. 101-108. doi: 10.32631/pb.2019.2.16.
Copyright (c) 2019 O. O. Yevdokimova, Ya. S. Ponomarenko
This work is licensed under a Creative Commons Attribution 4.0 International License.