Introduction of the Project "Community Police Officer" as a Step towards Strengthening Local Security Infrastructure
O. I. Bezpalova

Kharkiv National University of Internal Affairs
Keywords:
police, community police officer, amalgamated community, local safety infrastructure, public order, public security
Abstract
The author has emphasized on the importance of strengthening the institutional capacity of local self-government agencies to address their challenges, including in the field of public safety, in particular by strengthening local security infrastructure. It has been stated that the urgent issue of the present time is to update the tools of interaction between the local population and the police to achieve a common goal – to ensure public order and safety at the regional level focused on the needs of citizens. It has been emphasized that it is currently important to use the positive foreign experience of organizing the work of the police agencies and units. On the basis of studying this experience it is advisable to implement pilot projects aimed at creating a safe environment for citizens, which should implement effective local security infrastructure. To this end, the project "Community Police Officer" was launched in 2019 as part of the reform of the National Police in Ukraine.
Particular attention has been paid to the fact that the main purpose of the project "Community Police Officer" is to ensure close cooperation between police officers and amalgamated community, where police activities are primarily focused on the needs of the community. It has been argued that a characteristic feature of the project "Community Police Officer" is the focus on the introduction of a qualitatively and meaningfully new format of policing, where the needs of the community, local population should be in priority, which should be studied and ensured by keeping constant contacts between police officers and local population. The main innovations of this project have been analyzed. The powers of the community police officer and the district police officer have been differentiated. The key stages of the project "Community Police Officer" have been outlined. Specific features of training community police officers have been characterized, since it directly affects the effectiveness of their duties and the state of public order and safety within a particular amalgamated community. The peculiarities of evaluating the effectiveness of the community police officer's work have been revealed. The author has emphasized on the importance of developing Regulations on the organization of community police officers' work and developing an effective mechanism for elaborating the training programs for community police officers.
Downloads
Download data is not yet available.
References
Shadska U., 2018. Community's security: search for joint decisions [Bezpeka hromady: poshuk spilnykh rishen]. Kyiv: HUSS. (Ed.: Poladova D.). Available at https://decentralization.gov.ua/uploads/library/file/350/Bezpeka_Hromad.pdf [Accessed 19 January 2020].
Interaction between police and community (Community Policing) [Vzaiemodiia politsii ta hromady (Community Policing)]. [online] Human Rights Expert Center. Available at http://ecpl.com.ua/wp-content/uploads/2017/02/com_pol.pdf [Accessed 19 January 2020].
Holub M.V., 2013. Administrative and legal regulation of keeping public order in the region [Administratyvno-pravove rehuliuvannia okhorony hromadskoho poriadku u rehioni]. Ph.D. dissertation. Kharkiv National University of Internal Affairs.
The project "Community Police Officer" is planned to be introduced in the regional cities [Proiekt "Politseiskyi ofitser hromady" planuiut zaprovadyty v mistakh oblasnoho znachennia]. [online] Procherk. Available at https://procherk.info/news/7-cherkassy/79117-proekt-politsejskij-ofitser-gromadi-planujut-zaprovaditi-v-mistah-oblasnogo-znachennja [Accessed 24 January 2020].
Friedmann R.R., 1992. Community Policing: Comparative Perspectives and Prospects. N.Y.: St. Martin's Press.
Kopina O.P., Miroshnyk O.S. and Serdiuk O.O., 2018. Dialog between police and public as a social technology of introducing community policing principles into local community [Dialoh politsii ta hromady yak sotsialna tekhnolohiia vprovadzhennia pryntsypiv community policing u mistsevii hromadi]. Kharkiv: Kharkivskyi natsionalnyi universytet vnutrishnikh sprav.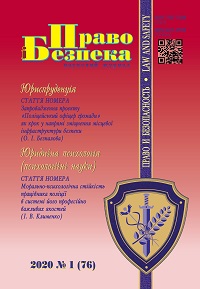 How to Cite
Bezpalova, O. I. (2020) "Introduction of the Project 'Community Police Officer' as a Step towards Strengthening Local Security Infrastructure", Law and Safety, 76(1), pp. 13-18. doi: 10.32631/pb.2020.1.01.
Section
THE ARTICLE OF THE NUMBER
Copyright (c) 2020 O. I. Bezpalova
This work is licensed under a Creative Commons Attribution 4.0 International License.