Pedagogical Workers as Objects of Bullying
О. V. Pohorilets

Kharkiv National University of Internal Affairs
Keywords:
bullying, educational institution, pedagogical worker, victim, pressure, cyberbullying, administrative offense
Abstract
The article focuses on the analysis of the main types of bullying that pedagogical workers suffer from, including typical features and predominant forms of bullying of victims, characteristics of victims, as well as offenders and the like. The purpose of the article is to highlight the problem of bullying of pedagogical workers in the educational environment as a social phenomenon.
The author has carried out the analysis of the judicial practice of the Law on Counteracting Bullying for one year when considering cases and holding people administratively liable for committing bullying, as well as the identified shortcomings in fixing the evidence base by the police while holding the buller accountable. It turned out that teachers' bullying in virtual space is actually the transfer of bullying outside the educational institution.
The author has offered the measures regarding the procedure and the obligation to consolidate evidence by representatives of juvenile prevention units of the territorial units of the National Police of Ukraine, in accordance with the requirements of the current legislation, in the case of teachers contacting law enforcement agencies as victims of bullying and activities to create a safe educational environment in educational institutions.
Downloads
Download data is not yet available.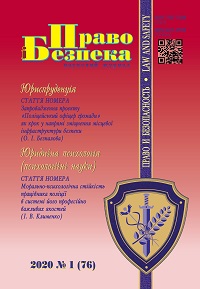 How to Cite
PohoriletsО. V. (2020) "Pedagogical Workers as Objects of Bullying", Law and Safety, 76(1), pp. 139-145. doi: 10.32631/pb.2020.1.20.
Section
EMPIRICAL JURISPRUDENCE
Copyright (c) 2020 О. V. Pohorilets
This work is licensed under a Creative Commons Attribution 4.0 International License.