Review for the monograph "Administrative and Legal Principles of Law Enforcement Agencies' Activities to Ensure Financial and Economic Security of Ukraine" prepared by Rieznik Oleh Mykolaiovych
A. T. Komziuk

Kharkiv National University of Internal Affairs
Downloads
Download data is not yet available.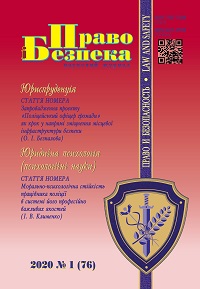 How to Cite
Komziuk, A. T. (2020) "Review for the monograph 'Administrative and Legal Principles of Law Enforcement Agencies' Activities to Ensure Financial and Economic Security of Ukraine' prepared by Rieznik Oleh Mykolaiovych", Law and Safety, 76(1), pp. 181-183. doi: 10.32631/pb.2020.1.27.
Copyright (c) 2020 А. Т. Комзюк
This work is licensed under a Creative Commons Attribution 4.0 International License.