Fringe Benefits to Cash Collateral as a Social Guarantee of Police Rights during Quarantine in Ukraine
M. A. Sambor

Pryluky Police Department of the Main Department of the National Police in Chernihiv region
Keywords:
quarantine, police, fringe benefits, cash collateral, police services, law and order, life sustenance
Abstract
The peculiarities of the legal regulation for establishing and paying fringe benefits to the cash collateral during quarantine for police officers have been studied. The normatively defined grounds for fringe benefits and the actual substantiation of the application of such payments for police officers have been analyzed. The legal position of the need for fringe benefits for all police officers has been substantiated, based on the tasks facing the National Police and the provision of police services to the population of Ukraine.
A comprehensive understanding of the tasks of the National Police allows us to conclude that the exercise of police powers is carried out through the provision of police services, which involves direct contact of police officers with the public or individual citizens. Under such conditions, the only possible conclusion is that every police officer during quarantine is entitled to fringe benefits to the cash collateral.
Social guarantees for police officers, which are defined by the highest regulatory act according to legal force, should not be narrowed and limited to bylaws that have lower legal force. Additional social guarantees for police officers during quarantine are determined not so much by their status as by the tasks and functions that police officers continue to perform in society, providing police services to society and its individual members without being able to take advantage of additional guarantees provided by the state to the citizens, the whole population in order to save their lives and health from coronavirus infection.
Reducing the level of social guarantees by depriving police officers of fringe benefits for providing police services during quarantine causes different status of police officers, which is mainly stipulated not to objective factors, but only subjective, and also affects the efficiency of police services and security of police officers.
Downloads
Download data is not yet available.
References
Yaroshenko O.M., Barabash H.O., Vapniarchuk N.M. et al., 2015. The right of social security in Ukraine [Pravo sotsialnoho zabezpechennia v Ukraini]. 4th ed. Kharkiv: Pravo. (Ed.: Yaroshenko O.M.).
Marchuk M.I., 2016. The right to work in the constitutional and legal doctrine of Ukraine [Pravo na pratsiu u konstytutsiino-pravovii doktryni Ukrainy]. In: Kharkiv National University of Internal Affairs et al. Scope of labour law and social security law [Sfera dii trudovoho prava ta prava sotsialnoho zabezpechennia]. 28 October. Kharkiv: Kharkivskyi natsionalnyi universytet vnutrishnikh sprav. Pp. 191-194.
Bortnyk S.M., 2017. Problems of legal regulation of labor rights of police officers by by-laws [Problemy pravovoho rehuliuvannia trudovykh prav politseiskykh pidzakonnymy normatyvno-pravovymy aktamy]. Naukovij vìsnik publìčnogo ta privatnogo prava – Scientific Journal of Public and Private Law, Iss. 6, Vol. 3, pp. 26-31.
Lemesh D.L., 2016. Administrative and legal status of police officers in Ukraine [Administratyvno-pravovyi status pratsivnykiv politsii v Ukraini]. Abstract of Ph.D. dissertation. Scientific Institute of Public and Space Law.
Malenta V.S., 2010. Informal interpretation of legal norms [Neofitsiine tlumachennia norm prava]. Abstract of Ph.D. dissertation. Kyiv National University of Internal Affairs.
Sambor M.A., 2020. The composition of the administrative offense for violating the rules of quarantine of people [Sklad administratyvnoho pravoporushennia shchodo porushennia pravyl karantynu liudei]. Vìsnik Lugansʹkogo deržavnogo unìversitetu vnutrìšnìh sprav ìmenì E.O.Dìdorenka – Bulletin of Luhansk State University of Internal Affairs named after E.O.Didorenko, No. 2, pp. 155-170.
Zozulia I.V., 2019. Police services in the legislation of Ukraine and in practice [Politseiski posluhy v zakonodavstvi Ukrainy ta na praktytsi]. Forum prava – Forum of Law, No. 3, pp. 21-38. http://doi.org/10.5281/zenodo.3362208.
Klymenko I.V., Shvets D.V., Yevdokimova O.O., Posokhova Ya.S. (ed.), 2017. Employee memo of the National Police of Ukraine. Information and reference materials on professional communication of police officers [Pamiatka pratsivnyka Natsionalnoi politsii Ukrainy. Informatsiino-dovidkovi materialy z pytan profesinoho spilkuvannia politseiskykh]. Kharkiv: Kharkivskyi natsionalnyi universytet vnutrishnikh sprav.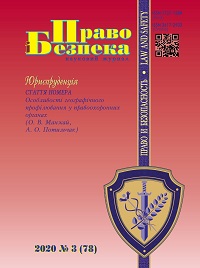 How to Cite
Sambor, M. A. (2020) "Fringe Benefits to Cash Collateral as a Social Guarantee of Police Rights during Quarantine in Ukraine", Law and Safety, 78(3), pp. 64-79. doi: 10.32631/pb.2020.3.08.
Section
ADMINISTRATIVE LAW AND POLICING
Copyright (c) 2020 M. A. Sambor
This work is licensed under a Creative Commons Attribution 4.0 International License.