Properties of Criminological Legislation of Ukraine
S. K. Shabelnikov

Kharkiv National University of Internal Affairs
Keywords:
crime combating, criminological legislation, alliance, construct, metasystem, network, conventionality, criminal situation
Abstract
The author has provided characteristics of such basic properties of criminological legislation as its constructivist nature, natural and legal semantic core, objective ability to obstruction of criminogenic factors, functional dynamics, intersectoral, supersystem (metasystemic) character, network organization, functional integration into the mechanism of combating crime, conventionality, stability, partial simulativeness, potential criminogenic situation. Additional features of this legislation are: a) conventionality in combating crime as an implicit property of national security sector in connection with the liberal and humanistic worldview dominant of the social contract embodied in the Constitution of Ukraine; b) formativeness, i.e. the ability to define boundaries, to set the format of combating crime; c) stability, which ensures the heredity of the anti-crime system. The time limits of the stability of criminological legislation are constantly decreasing.
It has been argued that the content and effectiveness of criminological legislation is determined by the presence of those entities in the state that are capable of conceptualization, basic meaning in criminological categories with subsequent extrapolation, detailing of relevant concepts and categories on legal matter, legal field and law enforcement. Thus, the nature of criminological legislation is primarily determined by scientific and practice-oriented vision, identifying opportunities to use any legal regulation or an act in general, to adapt it to the demands of special criminological crime prevention and crime combating.
The practical significance of the obtained results lies in the possibility of their use for the development of the concept for developing criminological legislation, scientific provision of criminological examination of regulatory acts and their drafts.
Downloads
Download data is not yet available.
References
Kalinina A.V., 2018. Criminological legislation in post-Soviet states [Kryminolohichne zakonodavstvo u postradianskykh derzhavakh]. Pitannâ borotʹbi zì zločinnìstû – Issues of Crime Prevention, Iss. 35, pp. 55-67.
Orlov V.N., 2016. Grounds of the criminological legislation [Osnovy kriminologicheskogo prava]. Stavropol: Argus.
Orlov Yu.V., 2016. Political-criminological theory of counteracting criminality [Polityko-kryminolohichna teoriia protydii zlochynnosti]. Kharkiv: Disa Plius.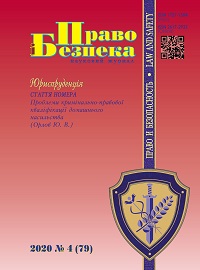 How to Cite
Shabelnikov, S. K. (2020) "Properties of Criminological Legislation of Ukraine", Law and Safety, 79(4), pp. 97-103. doi: 10.32631/pb.2020.4.15.
Section
CRIME COUNTERACTION AND COMBATING CORRUPTION
Copyright (c) 2020 S. K. Shabelnikov
This work is licensed under a Creative Commons Attribution 4.0 International License.