Copyright Norms, Copyright Infringements and Remedies in Ukraine and Jordan: What Interesting Complexities Tell of Two Jurisdictions?
B. Malkawi

College of Law, University of Sharjah

S. Y. Ablamskyi

Kharkiv National University of Internal Affairs
Keywords:
copyright, author, legal norms, copyright infringement
Abstract
Issue of copyright protection has been a great initiative gaining laudable ground in the world of intellectual property law, as it seeks to protect and safeguard the ideas of the author for it not to be violated and infringed upon by another without the author's consent or authorization. In ensuring author's right, a plethora of international, regional, and even national legal dispositions has been put in place for guaranteeing that works of author's should be protected against infringement. In response to these commitments, the states of Ukraine and Jordan have played a credible role by adhering and been signatories to these legal dispositions to endure copyright protection. Even though with all these protection being put into place by the said countries, there is still an aspect of infringement and violations, which has frustrated the rational of the law as it is aimed at ensuring copyright protection. The objective of this article is to study the implications that copyright infringement poses on the fundamental rights of an author's work. It is clear that aspect of copyright infringement affects the rights possessed by author in issues related to copyright protection in Ukraine and Jordan. While answering the fundamental question as to the aspect of copyright infringement in both countries, a comparative study was deemed necessary in order to study whether both countries experience same difficulties as a result of copyright infringement. It was realized from the findings that issues of infringement, even though with the credible laws and institutions put in place by both countries, has been a common problem. Therefore, it has been noted that a research of this magnitude was deemed necessary in ensuring that copyright of author's should be guaranteed and protected.
Downloads
Download data is not yet available.
References
Kovalenko I. A. Actual problems of protection and defence of intellectual property rights in the internet in the conditions of globalization of society and modern technologies. Scientific Notes of Taurida National V. I. Vernadsky University. Series: Legal Sciences. 2018. Vol. 29 (68), No. 3. Pp. 52–55.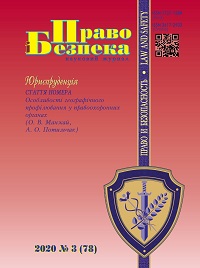 How to Cite
Malkawi, B. and Ablamskyi, S. Y. (2020) "Copyright Norms, Copyright Infringements and Remedies in Ukraine and Jordan: What Interesting Complexities Tell of Two Jurisdictions?", Law and Safety, 78(3), pp. 22-31. doi: 10.32631/pb.2020.3.02.
Section
NATIONAL SECURITY AND HUMAN RIGHTS
Copyright (c) 2020 B. Malkawi, S. Y. Ablamskyi
This work is licensed under a Creative Commons Attribution 4.0 International License.