Psychological readiness for innovation and individual-style self-regulation of police officers
Keywords:
heads, police departments, management activity, psychological readiness, innovative activity, self-regulation
Abstract
It has been stressed that very demanding requirements for the effective management activity put forward for the heads of police departments. This activity should ensure the proper performance of professional duties by subordinate employees. The psychological readiness for innovation will allow the representatives of the police leadership to carry out an effective implementation of the strategy of ensuring the protection of individuals and society. The lack of self-regulation makes them vulnerable while taking important professional decisions.
The objective of the article was the empirical study of the features of psychological readiness and individual-style self-regulation of the heads of police departments at different levels of readiness for innovation.
The author of the research has used "Psychological Readiness for Innovation" (V. E. Klochko, O. M. Krasnoryadtseva) and "Style of Self-Regulation of Behavior" (V. I. Morosanova) methods. The sample consisted of 316 heads of police departments.
It has been theoretically grounded that psychological readiness for innovation is an important professional feature of a police leader able to form his personal resource in terms of constant changes. Empirically, the highest number of correlation relationships was found within a group of leaders with an average readiness level, namely, it was recorded: a tendency to increase flexibility with a more active manifestation of initiative; the ability to set criteria for quality assessment is reduced while increasing the frequency of providing the benefits of activities that require innovation; increasing readiness for change leads to an increase in the ability to assess the results. It has been noted that leaders with a high level of readiness for innovation have increased flexibility with the growth of readiness for changes. With regard to law enforcement officers with a low level of readiness for innovation, it has been concluded that their programming capacity has increased as a result of an increase in the frequency of giving priority to activities that require innovation. It has been determined that such skills as flexibility, programming, correction and self-regulation can improve managerial activity of the leaders in the whole.
Downloads
Download data is not yet available.
References
Marasanov H.I. and Salnik D.A., 2018. The connection between the manager's innovative activity and preferred ways of overcoming the "problem of success" [Svyaz innovatsionnoi aktivnosti rukovoditelya i predpochitaemykh im putei preodoleniya "problemy uspekha"]. Natsional'nyy psikhologicheskiy zhurnal – National Psychological Journal, No. 1, pp. 128-140. https://doi.org/10.11621/npj.2018.0112.
Chudakova V.P., 2015. Psychological readiness for innovation as a factor in the competitiveness of the individual in rapidly changing conditions [Psihologicheskaja gotovnost' k innovacionnoj dejatel'nosti kak faktor konkurentosposobnosti lichnosti v bystro izmenjajushhihsja uslovijah]. Vestn. pedagog. psihol. Ûžn. Sib., [online] No. 2. Available at http://bulletinpp.esrae.ru/211-981 [Accessed 01 November 2018].
Panteleyeva V.V., 2011. Opportunities of the psychological diagnostics of innovatijn readiness of the personality and organization [Vozmozhnosti psikhologicheskoi diagnostiki innovatsionnoi gotovnosti lichnosti i organizatsii]. Vestnik Rossijskogo universiteta družby narodov. Seriâ Psihologiâ i pedagogika – RUDN Journal of Psychology and Pedagogics, No. 3, pp. 56-61.
Morosanova V.I., 2004. Questionnaire "Style of self-regulation of behavior" (SMTA) [Oprosnik "Stil` samoregulyatsii povedeniya" (SSPM): Rukovodstvo]. Moscow: Cogito-Centre.
Klochko V.E. and Krasnoryadtseva O.M., 2013. Psychodiagnostic technologies for revealing the potential of innovativeness and talents of young people [Psikhodiagnosticheskie tekhnologii vyyavleniya potentsiala innovatsionnosti i odarennosti molodezhi]. Tomsk: Izdatel`skiy dom Tomskogo gosudarstvennogo universiteta.
Golovin S.Yu., 2001. Practice Psychology Dictionary [Slovar` psihologa-praktika]. Minsk: Harvest.
Bodrov V.A., 1991. Psychophysiological problems of professional reliability of a human operator [Psihofiziologicheskie problemyi professionalnoy nadezhnosti cheloveka-operatora]. In: Psychological problems of professional activity [Psikhologicheskie problemy professionalnoi deyatelnosti]. Moscow: Nauka. Pp. 111-121.
Kotik M.A. and Emel`yanov A.M., 1993. The nature of human operator errors (on examples of driving) [Priroda oshibok cheloveka-operatora (na primerakh upravleniya transportnymi sredstvami)]. Moscow: Transport.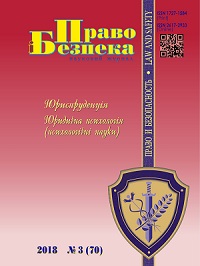 How to Cite
Voluiko, O. M. (2018) "Psychological readiness for innovation and individual-style self-regulation of police officers", Law and Safety, 70(3), pp. 51-56. doi: 10.32631/pb.2018.3.07.
Copyright (c) 2018 O. M. Voluiko
This work is licensed under a Creative Commons Attribution 4.0 International License.