Concepts and Types of Disciplinary Sanctions Applied to Police Officers
D. Ye. Zherebtsov

Kharkiv National University of Internal Affairs
Keywords:
service discipline, disciplinary responsibility, disciplinary sanction, a police officer, a chief, admonition, verbal warnings
Abstract
The positions of scholars in regard to the category of "disciplinary action" have been studied. The national legislation, which stipulates the types of disciplinary sanctions, has been analyzed. The author has provided own definition of the term of "disciplinary sanction applied to a police officer". This definition has been offered to understand as a measure of legal punishment of a police officer for the violation of official discipline in order to stimulate his effective activity and to educate him in a conscious attitude to the quality of official duties and compliance with official discipline.
The author has substantiated the position, according to which the employer should have the maximum tools for disciplinary influence on the employee in the arsenal, who does not perform at all or performs his duties not in good faith, in order to differentiate the assessment of each individual disciplinary offense. As the national law prohibits the employer from imposing additional disciplinary sanctions, then the laws should constitute the maximum lists of disciplinary sanctions. The author has proved the expediency of providing the possibility to apply verbal warnings as a form of disciplinary action for minor violations of official discipline of police officers. This step will contribute to the unification of national legislation regulating the activities of the system of the Ministry of Internal Affairs of Ukraine.
Suggestions and recommendations for improving the list of the types of disciplinary sanctions applied to police officers and other provisions of regulations in the relevant field have been provided. It has been offered: 1) to supplement Part 3 of the Art. 13 of the Law of Ukraine "On the Disciplinary Statute of the National Police of Ukraine" with another disciplinary sanction – an verbal warning; 2) to set out Part 1 of the Art. 20 of the Law of Ukraine "On the Disciplinary Statute of the National Police of Ukraine" as follows: "1. Disciplinary sanctions are applied by the chief, who has the right to hire (appoint) a police officer"; 3) to exclude Parts 4, 5 and 9 from the Art. 20 of the Law of Ukraine "On the Disciplinary Statute of the National Police of Ukraine".
Downloads
Download data is not yet available.
References
Nikitinskii V.I., 1955. Responsibility of workers and employees for violation of labor discipline under Soviet labor law [Otvtstvennost` rabochikh i sluzhashchikh za narushenie trudovoi distsipliny po sovetskomu trudovomu pravu]. Ph.D. dissertation. Moscow.
Melnyk K.Yu., 2014. Labor law of Ukraine [Trudove pravo Ukrainy]. Kharkiv: Disa plius.
Zhernakov V.V., Prylypko S.M., Yaroshenko O.M. et al., 2012. Labor law [Trudove pravo]. Kharkiv: Pravo. (Ed.: Zhernakov V.V.).
Leist O.E., 1962. Sanctions in Soviet law [Sanktsii v sovetskom prave]. Moscow: Gosudarstvennoe izdatel`stvo yuridicheskoi literatury.
Shemshuchenko Yu.S. (ed.), 2012. Large encyclopedic legal dictionary [Velykyi entsyklopedychnyi yurydychnyi slovnyk]. 2nd ed. Kyiv: Yurydychna dumka.
Khutorian N.M. (ed.), 1999. Improving labor legislation in market conditions [Udoskonalennia trudovoho zakonodavstva v umovakh rynku]. Kyiv: In Yure.
Uhriumova H., 2005. General characteristics of disciplinary liability and disciplinary misconduct under Ukrainian labor law [Zahalna kharakterystyka dystsyplinarnoi vidpovidalnosti i dystsyplinarnoho prostupku za ukrainskym trudovym pravom]. Pravo Ukraïni – Law of Ukraine, No. 5, pp. 78-81.
Shcherbyna V.I., 2006. Disciplinary sanctions: problems of efficiency in the conditions of market relations [Dystsyplinarni sanktsii: problemy efektyvnosti v umovakh rynkovykh vidnosyn]. Pìdpriêmnictvo, gospodarstvo ì pravo – Entrepreneurship, Economy and Law, No. 10, pp. 45-49.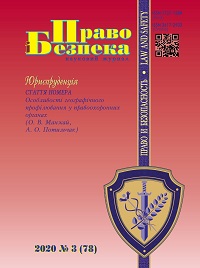 How to Cite
Zherebtsov, D. Y. (2020) "Concepts and Types of Disciplinary Sanctions Applied to Police Officers", Law and Safety, 78(3), pp. 52-57. doi: 10.32631/pb.2020.3.06.
Section
ADMINISTRATIVE LAW AND POLICING
Copyright (c) 2020 D. Yе. Zherebtsov
This work is licensed under a Creative Commons Attribution 4.0 International License.