Possible ways to increase the efficiency of the institution of power lustration in Ukraine
V. B. Pchelin

Kharkiv National University of Internal Affairs
Keywords:
lustration of power in Ukraine, lustration, ways to increase, mechanism of power lustration, legal principles, decisions of the European Court of Human Rights
Abstract
It has been emphasized that lustration (purification of power) was once chosen as one of the main mechanisms for resetting all branches of power in Ukraine. The national legislation, which is the legal basis for the functioning of the mechanisms for the purification of power in Ukraine, has been analyzed. It has been clarified that the domestic mechanism of government lustration is ineffective, since in many cases it harmed the interests of the state and society in general. It has been stated that the majority of the ruling elite was never lustrated, and those who were under lustration processes were renewed in their positions as a result of court decisions. The result of such renewals was material compensation (sometimes several dozens or even hundreds of thousands of hryvnias) for the period of so-called forced absence. The decision of the European Court of Human Rights on the Ukraine's violation of the Convention for the Protection of Human Rights and Fundamental Freedoms dated from November 4, 1950 within the application of mechanisms of power lustration has been studied. The author has emphasized the need for increasing the efficiency and developing mechanisms of power lustration existing for a long period of time. It has been noted that the state is showing excessive activity in the formation and implementation of mechanisms for the purification of power, aimed not at eliminating existing shortcomings, but at expanding the list of persons subject to lustration. Such approaches to the purification of power, being ineffective, contradict a number of standards recognized by the world community. Ways to increase the efficiency of the institution of power lustration in Ukraine have been determined. It has been argued that it is expedient to use such mechanisms of purification of power that have a personalized addressee. It has been noted that establishing the guilt of a particular official in committing an offense in the field of his professional activity may result in his removal from office and a ban on holding this position in the future. It has been established that all the standards of purification of power will be observed in this case: the guilt will be personal, an individual objective investigation will be carried out, and the person will be able to use all the mechanisms to protect own rights.
Downloads
Download data is not yet available.
References
Bezpalova O.I., 2014. Administrative and legal mechanism for implementing the law enforcement function of the state [Administratyvno-pravovyi mekhanizm realizatsii pravookhoronnoi funktsii derzhavy]. Kharkiv: NikaNova.
Zadorozhnyi S.A., 2016. Mechanisms for preventing and combating corruption within local authorities [Mekhanizmy zapobihannia ta protydii koruptsii v orhanakh mistsevoi vlady]. Ph.D. dissertation. Ivano-Frankivsk National Technical University of Oil and Gas.
Ivantsov V.O., 2018. Content and principles for the realization of disciplinary responsibility in case of violating the norms of the Law of Ukraine "On Preventing Corruption" [Zmist i pryntsypy realizatsii dustsyplinarnoi vidpovidalnosti u razi porushennia norm Zakonu Ukrainy "Pro zapobihannia koruptsii"]. Naukovij vìsnik publìčnogo ta privatnogo prava – Scientific Journal of Public and Private Law, Iss. 5, Vol. 2, pp. 89-95.
Movchan A.V., 2017. Relevant problems of combating corruption in Ukraine [AktualniproblemyprotydiikoruptsiivUkraini]. Vìsnik krimìnalʹnogo sudočinstva – Herald of Criminal Justice, No. 1, pp. 116-121.
Musiienko O.P., 2017. Administrative and legal measures of preventing and combating corruption in the executive agencies of local self-government in Ukraine [Administratyvno-pravovi zakhody zapobihannia ta protydii koruptsii v orhanakh vykonavchoi vlady i mistsevoho samovriaduvannia v Ukraini]. Ph.D. dissertation. Open International University Human Development "Ukraine".
Novak A.M., 2019. Theoretical and methodological principles of the formation and implementation of national anti-corruption policy [Teoretyko-metodolohichni zasady formuvannia ta realizatsii natsionalnoi antykoruptsiinoi polityky]. D.Sc. dissertation. Dnipropetrovsk Regional Institute for Public Administration.
Nonik V.V., 2019. Mechanisms for the formation and implementation of anti-corruption policy in Ukraine [Mekhanizmy formuvannia ta realizatsii antykoruptsiinoi polityky v Ukraini]. D.Sc. dissertation.
Parkhomenko-Kutsevil O.I., 2019. Formation and development of modern anti-corruption agencies of state power as the basis for preventing and overcoming corruption: theoretical and methodological analysis [Formuvannia ta rozvytok suchasnykh antykoruptsiinykh orhaniv derzhavnoi vlady yak osnova zapobihannia ta podolannia koruptsii: teoretyko-metodolohichnyi analiz]. Kyiv: Personal.
Rezanov S.A., 2014. Discretionary powers as corrupt risks in the activities of public administration agencies [Dyskretsiini povnovazhennia yak koruptsiini ryzyky v diialnosti orhaniv derzhavnoho upravlinnia]. Pravo bezpeka, No. 3, pp. 88-91.
Romanov M.V., 2017. Basic principles of combating corruption [Osnovni zasady zapobihannia koruptsii]. Kharkiv: Prava liudyny.
Shatrava S.O., 2017. Administrative and legal principles for preventing corruption in the agencies of the National Police of Ukraine [Administratyvno-pravovi zasady zapobihannia koruptsii v orhanakh Natsionalnoi politsii Ukrainy]. D.Sc. dissertation. Kharkiv National University of Internal Affairs.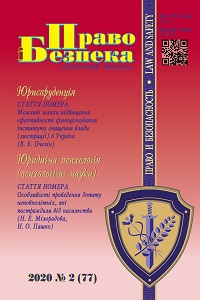 How to Cite
Pchelin, V. B. (2020) "Possible ways to increase the efficiency of the institution of power lustration in Ukraine", Law and Safety, 77(2), pp. 13-18. doi: 10.32631/pb.2020.2.01.
Section
THE ARTICLE OF THE NUMBER
Copyright (c) 2020 V. B. Pchelin
This work is licensed under a Creative Commons Attribution 4.0 International License.